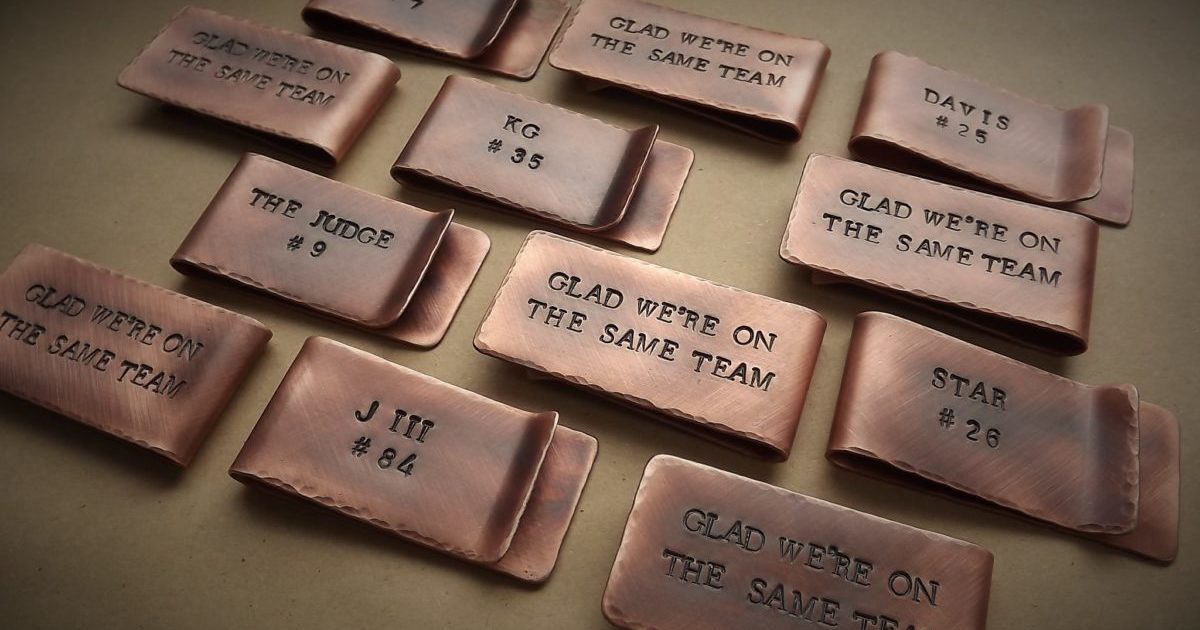 Money Clip Gift Ideas
Of all the many things we make there's no doubt I like nothing more than creating a new money clip design. I'll confess that until two years ago I'd never owned or used one, but now I'm never without mine.
Therefore, as a gift idea they're simply perfect for the man who already has everything. Because there is no real design limitation, they can be personalised to suit anyone. It's also the type of gift that it doesn't really matter if the recipient already has one, as I find it's not possible to have too many! I have two 'favourite' money clips right now and rather more back-ups, depending on where I'm going! I'm always thinking about whats going on my next one too of course.
So currently there are around 20 hand stamped and etched money clip designs on our website. These examples give a rather good idea of how much detail and content we can fit on each clip. Whilst I love making each and every one of them, I love nothing more than receiving a request for a custom one.
Money Clip Designs
So, what can we do? Well hand stamping offers the most simple (also effective) form of personalisation. Hence the popularity of initials on the front and short message on the rear to make a really special gift. In addition, dates and coordinates are also a popular choice. Consequently, we're happy to look up the latitude and longitude of any location and hand stamp this on the rear of the money clip. Hence, these make particularly good gifts for wedding favours, making brilliant keepsakes and usable everyday items too.
If it's something more eye-catching you're looking for, then our etched money clips certainly offer greater design opportunities. These can feature images and text relating to occupations, hobbies, pastimes, music, travel, cars, etc., the list is endless. Initials and messages can also be etched in just about any size and style of font.
My personal favourites are the ones that combine both etching and hand stamping. Hand stamping gives some texture and earthiness to the copper, and as a result of this, a more rustic feel is achieved. Additionally, by texturing the edges of the money clip with a ball pein hammer a beautiful weathered appearance can be achieved. An added bonus to hand stamping and texturing is that the process also 'work hardens' the copper making for a more effective spring tension within the clip.
Finally the Finish
Whilst bright new shiny copper is lovely, aged, rustic, distressed copper looks even more stunning. The rich coppery tones I strive to achieve on our money clips is all due to the final few processes.
Once sanded and textured an application of an ageing patina darkens the copper anywhere from a light brown tan colour to near pitch black. The use of patina is twofold. Primarily it is to make the design really stand out. The recessed areas of the etched image or hand stamped letters retain the dark patina and consequently provide a clear contrast to the copper colour. Secondly, a light application of patina adds age to the clip, highlights the textures and brings out a vast array of rich coppery tones that 'new' copper simply doesn't have. The lightest of polishes with fine wire wool and several protective coatings of Renaissance Wax then completes the clip.
There's no substitute for actual ageing though. Because of this, I find that the older and more used that a money clip is, the better it looks. This is one of the many things I love about copper in general.
Create Your Own Bespoke Money Clip
So, buy any of our money clips as listed, or add your own personalised touches to our existing designs. Since no machine processes are involved, no two money clips will ever be exactly the same. However, if you're feeling inspired to create a truly one-off gift for yourself or someone else, why not get in touch now and we'll help you create a stunning bespoke design that's perfectly suited.
Finally, if you're completely stuck for ideas we can always offer a full custom design for you. Tell us as much as possible about the recipient and we'll take care of the rest!